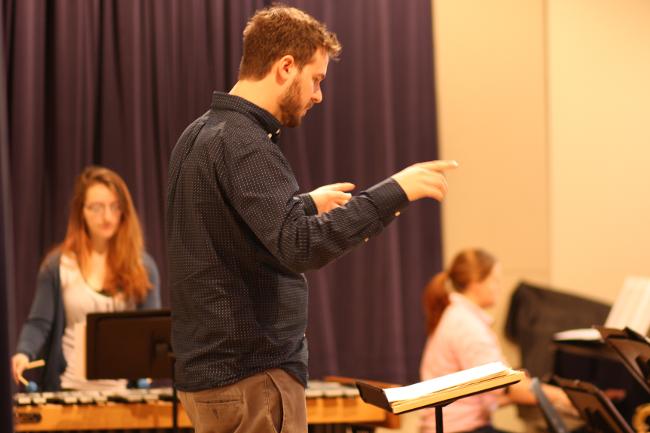 Quotes (Performance/Composition)
"Ryan is the complete package. He's a creative and intelligent pianist with a thorough command of the jazz tradition. Distinguishing himself as an emerging composer, Ryan is able to write in a variety of idioms, while still maintaining an uniquely individual sense of voice."
–Mathew Buchman, Director of Jazz Studies, University of Wisconsin-Stevens Point
"Ryan Tomski is an outstanding creative artist and composer. His creative work spans many genres and appeals to a wide and appreciative audience. Ryan is also an effective piano and composition teacher."
-Charles Rochester Young, Director of Composition, University of Wisconsin-Stevens Point
"Ryan Tomski is an extremely inventive and creative musician. His extensive musical influences, flexible technique, and sympathetic ear make him an ideal jazz pianist."
-Ryan Korb, Lecturer, University of Wisconsin-Stevens Point
"What strikes me about Ryan Tomski is his drive for self-betterment and the forward momentum he generates. Highly motivated, he is eager to learn and embraces advanced challenges. This rare quality is a sign of his intention to succeed, to the best of his ability, in everything that he does."
-Armen Donellian, Professor of Jazz Piano, William Paterson University
Quotes (Education)
"Ryan makes learning the piano fun, whether you are an adult or a child. He's patient, energetic, and supportive. Ryan's greatest gift, though, is his ability to instill the love of music. At the end of each lesson, he plays a song for us. He will ask my son what he should play, and then he will entertain us all with his skillful playing. Many times, though, my son will ask him to make up a song that demonstrates an emotion or emotions. Ryan will make up a song on-the-spot...a really amazing song, a breath-catching song. That's when a lesson goes way beyond knowing what keys to hit, but to an experience."
-Melanie Wallace, Mother of student Will, Wife of student Sean
"Ryan is great with my son Jake, who at 12 years old is not exactly interested in playing the classics. So Ryan took the time to simplify a popular song of my son's choosing and kept my son motivated. Thanks Ryan for being flexible with kids of varying interests!"
-Lisa Ludwig, Mother of students Jake and Elyse